The Psion Series 5 reborn? Running Android, but hey...
I realise that this is tangential in interest for both AAWP and AAS, but both communities have long been interested in QWERTY-based devices, so.... Plus Symbian was the successor to EPOC/32, which is what the original Psion Series 5 PDA ran. So there's a connection through. The Gemini PDA is by the designer of that Series 5 and is currently up as an Indiegogo project, with a month to go. Will there be enough interest to create this thing? It runs Android or Linux and, well, they don't seem to have a fully working prototype yet, so who knows how it will run, but the specs are high. Very interesting!
Here's the Gemini PDA web page and below is the promo video:
Very telling that in almost all the video the device is shown from the back or bottom. The screen is supposed to be touch-enabled and one would hope for a stock-ish build of Android. Or hey, what about booting this thing into Windows 10 of some variety?
Here are the official specs:
Features:
Two weeks of stand-by time / 12 hours of talk time
Fully tactile keyboard - recognised as the smallest keyboard for finger touch typing
Measure: 17.1 cm x 8.0 cm x 1.35 cm
5.7" colour hi-res ultra-wide touch screen
Wifi & WiFi+4G mobile options
Weight: 400 g
Dual side mounted speakers
Dual USB-C connectors to connect to keyboards, external screens, mice, charging cables as needed and many more.
Integrated Voice Assist button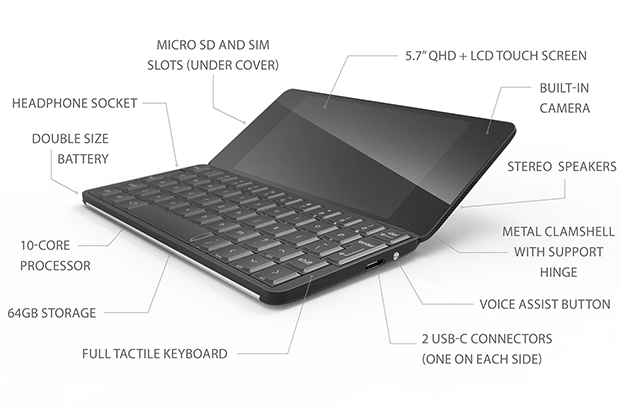 It all looks extremely early days, I'd estimate that this would be around a year away from retail even if the Indiegogo campaign is fully funded. Still, interesting - they had me at 'stereo speakers'!
Comments?
Published by Steve Litchfield at 16:59 UTC, February 27th
Section: Flow
Categories: Link of Interest
Platforms: General, General, Windows Phone 8