Revamped Nokia Developer website drops Symbian SDKs and documentation
Nokia Developer has launched a revamped version of its website with the aim of offering a cleaner user interface that more closely matches the rest of Nokia's web properties. An unfortunate side effect of the new site design is the removal of older content relating to the Symbian, MeeGo, Maemo, and Series 40 platforms.
This includes the removal of download links for Symbian and Qt related SDKs. For example, visiting the page for Symbian SDK (via search engine) results in a 404 not found error, whilst the page for Qt tools redirects to a generic resources page. Similarly, the developer library for Symbian has also been removed.
A page for generating Serial Number for the older SDKs continues to be active and a large amount of Symbian related content remains on the community created wiki.

The removal of older content is not a surprise, reflecting Nokia's current focus and activity on the Asha and Windows Phone platforms, but will irritate developers still working to support the older platforms.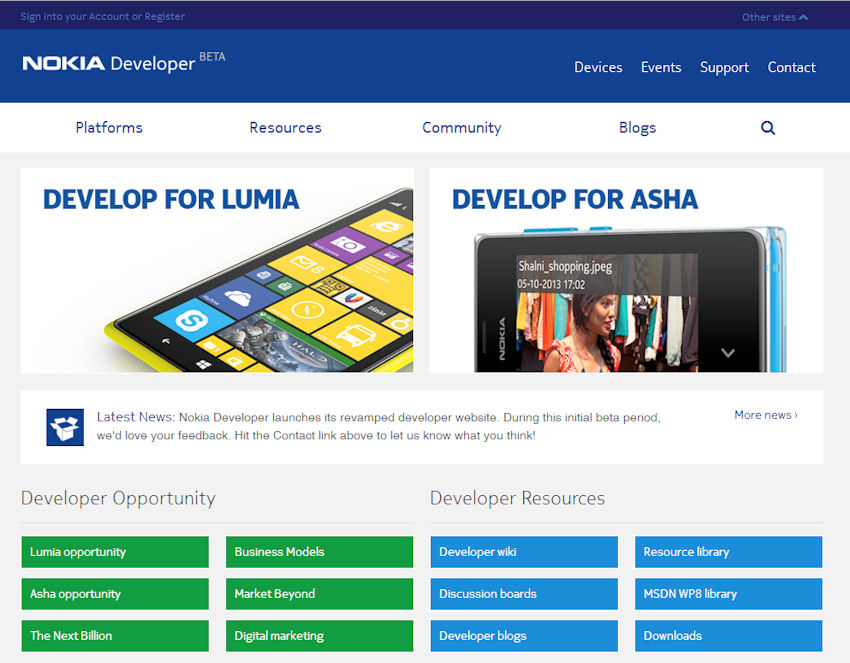 The new site uses a responsive design allowing the site to be viewed on a wide range of devices, including smartphones and tablets. As in previous incarnations the site provides a one-stop-shop for developers looking for resources relating to the platforms actively used by Nokia devices (Windows Phone and Asha/Series 40).

A feedback thread is available in the Nokia Developer Discussion Boards for those wishing to leave feedback on the revamped website.
Published by Rafe Blandford at 12:19 UTC, January 27th